This is a wonderful cracking cracker recipe from
Nupur
.I have bookmarked most of her recipes,but these cheese pennies looked too good and inviting. They are quick and easy to make but I did not believe that they could melt in the mouth,but they did.So here's my Cheese Pennies.
Ingredients:
All Purpose flour: 1 cup
Unsalted Butter: 1 stick softened
Shredded sharp Cheese:1.5-2 cups
Chilli powder: 1 tsp
Salt: 1/2 tsp
Sesame seeds: few for garnish
Preparation:
Sift together flour,salt and chilli powder in a bowl.Beat the butter in another bowl until creamy.Add shredded cheese to butter and blend together well.Add the flour mix to butter-cheese mix in batches and incorporate slowly and completely.Knead on a floured surface if needed and form a dough.Shape the dough as a log and wrap in a plastic sheet and refrigerate for a few hours or overnight.


Preheat the oven to 350 F.Remove the dough from the fridge and the plastic wrap and cut with a knife into 1/4 inch thick slices.Place in an greased/ungreased baking sheet,top with sesame seeds or any other preferred garnish and bake for 10 to 12 minutes.Cool for a few minutes on a wiring rack and then serve.
I have followed
Nupur's recipe
completely,except that I reduced the amount of cheese to 1.5 cups and instead of sharp cheddar,I added Mexican blend cheese.Also check for baking from the 7th minute onwards.First time I made these,I was in a hurry and unknowingly reduced the amount of flour.At the time of baking only I realized this.But they still tasted heavenly though they did not hold together.Also I found that creaming the butter with a hand blender works fine for this recipe.(Normally it is my hand that creams and they become a mess).From the step where the flour is added,I resorted to using my hands as the blender would have mashed it more.So once you add the flour ,blend it for 1 minute till it starts to mix and then use your hands for forming a dough.
This is a keeper recipe.You can make the dough early and refrigerate it for days as such.If you are freezing it,then thaw it in the refrigerator section while the oven is preheated.Cut only the required amount of crackers or cheese pennies and keep the rest of the dough in the fridge.
If you are a lover of Cheese It crackers,you will love this recipe.
So these Cheese Pennies along with
Cheesey Bell Pepper Rice
are saying '
Cheeeeeeeeeeeeeese
' to
Siri
where she is hosting
MBP:Cheese
an event started by
Coffee
.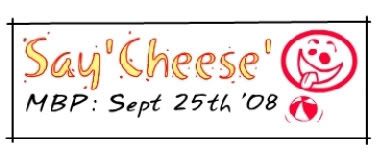 My Good Friend
Suma of Sumascuisine
has gifted me a 'GOOD JOB' award.THANKS A TON SUMA,I cherish this award.IT HAS MADE MY DAY.Its nice to be appreciated by a beautiful and wonderful fellow blogger.I would love to pass this award to
Lubna of
KitchenFlavours
,
Deesha of Vegetable Platter
Divya of
..a little bit more..
Enjoy the award with a wonderful
microwave halwa
from Suma and cheesy crackers from me. ;D